safety
Wax Busters Ltd. is committed to safety. Being safe is important in completing our work each and every time we are out on the job. We ensure that our employees are provided with the tools daily to ensure they are able to do their job safely. Wax Busters also will adapt the policies and procedures of clients safety programs to ensure we are working as a team. We then provide those policies and procedures to staff.

Wax Busters expects our drivers to adhere to all laws and be a safe and courteous driver. We expect to have a drug and alcohol free workplace. Harassment is not tolerated within the organization.

The health and safety of our staff, clients, the public and anyone else that we may affect is important. We need to live this every day and ensure that our staff believes that their health and safety is more important to us thats the bottom line.

Our commitment to safety is shown through our on the job training, outside training, empowerment and awareness with our staff. Wax Busters is proud to be SECOR certified and are registered both with ISN and Complyworks with excellent rankings.
Occupational health:

Our safety program in place helps ensure the prevention of occupational diseases and illness. We do this by identifying, evaluating and managing the risks we encounter daily with the use of such tools as our Pre-job Hazard assessment form. Training is also provided in areas such as the chemicals we use, proper care and use of PPE, fatigue, noise, use of equipment, different work environments.

SECOR: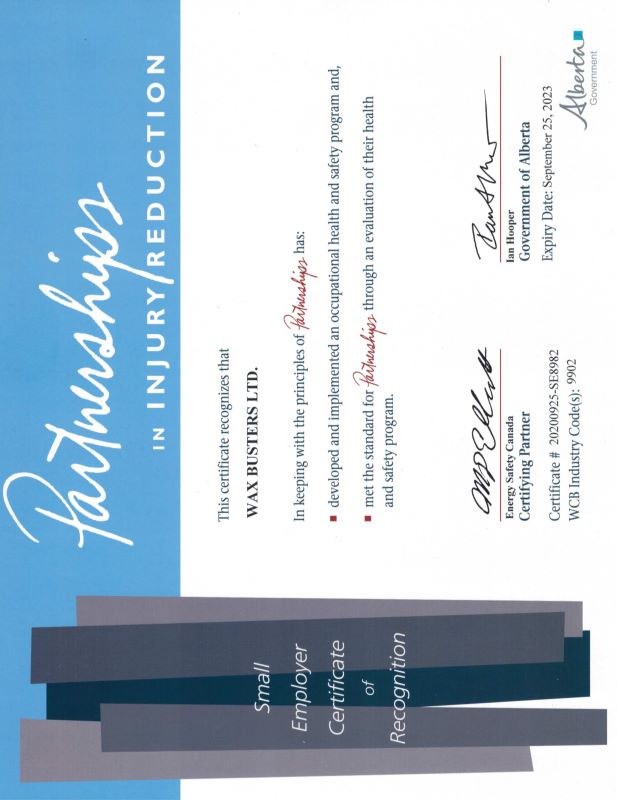 24-hour Emergency Contacts:
Calgary:
1-403-669-9955
Red Earth Creek:
1-587-215-4920